All buildings have central heat and air and may be used year around. The camp & retreat center is designed for all ages and all seasons.
Main Building
main building with a capacity of 118. This building also has a modern kitchen and flagstone fireplace.
Cabins
There are 6 cabins that sleep 16 people each with showers and restrooms. Cabins have cypress siding outside and inside, providing easy maintenance. Waterproof mattresses and sturdy wood bunk beds.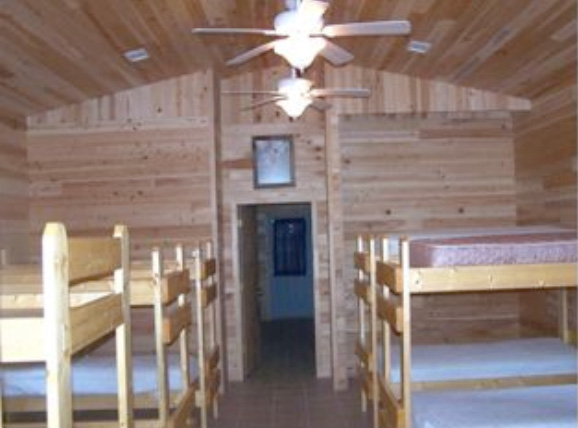 Recreational Facilities
25 foot rock climbing wall, two 500 foot zip lines, a swimming pool, softball field, basketball court, sand volleyball court, 9 square in the air, and gaga ball are used for recreation. There are 4 picnic shelters with tables and benches that can also be used for classes.
Staff House
Our staff building has an office/conference room and 7 motel-type rooms. This building also has 2 restrooms with showers to be used by the RV and tent camping area.
Leadership Retreat Center (June 2018)
A very special facility in the woods with all the amenities required for a successful retreat for 12-40 participants.